June 22, 2009
Microphones are legit. Some might say too legit to stop. If it wasn't for these amazing pieces of equipment we would never have known how sexy Thomas Edison's voice sounds when reciting nursery rhymes. That was a reference to the first audio recording in 1877 by Thomas Edison. He recorded a practical piece of poetry, or Mary had a little lamb onto a phonograph. Simply put, a phonograph is a tinfoil cylinder that has two needles, one for recording and one for playback. When spoken into its etched in the foil by one needle then played back with the other.
Humans have leaped jumps and bounds since the first recording of practical poetry.
So now we have had a history lesson, lets jump into what microphones are and how they work.
To keep this brief I'm only going to touch on 2 types of the most used microphones: Dynamic and Condenser microphones.
Dynamic Microphones:



Dynamic mics are the most common microphone used in recording sound. They are typically used as hand held mics like the one you see a singer on stage using.
They are powered by sound pressure levels, or in other words, your voice for example. When the sound hits the diaphragm of the mic it vibrates whats called a coil or fine wire in the air gap between two magnets.
When that coil is moved by your voice or an instrument a small electrical current is induced in the wire. That electrical current is a representation of the sound you created and it travels down the cable to the mixing board.


Condenser Microphones:


Condenser microphones are referred to by some as studio mics because they are generally higher quality than dynamic mics, more expensive and not as rugged and durable.
A condenser mic requires phantom power or 48v to power it. It too has a diaphragm but its a gold plated plastic version and it mounted above a back plate separated by a small volume of air. That forms what called a capacitor.
When sound vibrates the diaphragm it moves further and closer to the back plate and generates an electric charge that is then amplified and sent down the cable to the source resulting in a better quality recording.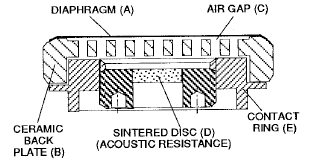 We use Audio Tecnica mics on the bus. Read about them here:
http://www.audio-technica.com/cms/site/c39d4794571cd2a1/index.html