April 22, 2009
Hey everyone.
The bus is a non-profit mobile recording studio that travels the country bringing unique opportunities to students across America.
One question that we often get asked is, "How do you afford all this great stuff and keep the bus running for 10 months non stop?"
There are two answers to that question:
1. We are funded by many corporate sponsors who are awesome enough to donate tons of cool gear and money to help keep us alive.
2. People across the country donate funds to the bus to help us do what we do.
I'm reaching out to remind people of what we do and why its important.
Music and Arts education are the first to go in schools in this struggling economy. Studies show that students who play music and express themselves creatively
do better in school and in life. Its a shame to see such beautiful minds wasted creatively on a daily basis across america and the sad truth is thats how it is.
Thats where the bus comes in, we travel to schools across our great country and give students a chance to participate in creative works all year long utilizing some of the industries best gear and equipment.
Just seeing the looks on their faces when the bus drives up, justifies our purpose and keeps us going. It is the best part of the job knowing you made a small difference in a students life.
So if you would like to make a donation to the bus to help us keep strong visit our website and the rest is history:
http://www.lennonbus.org/about_the_bus/contribute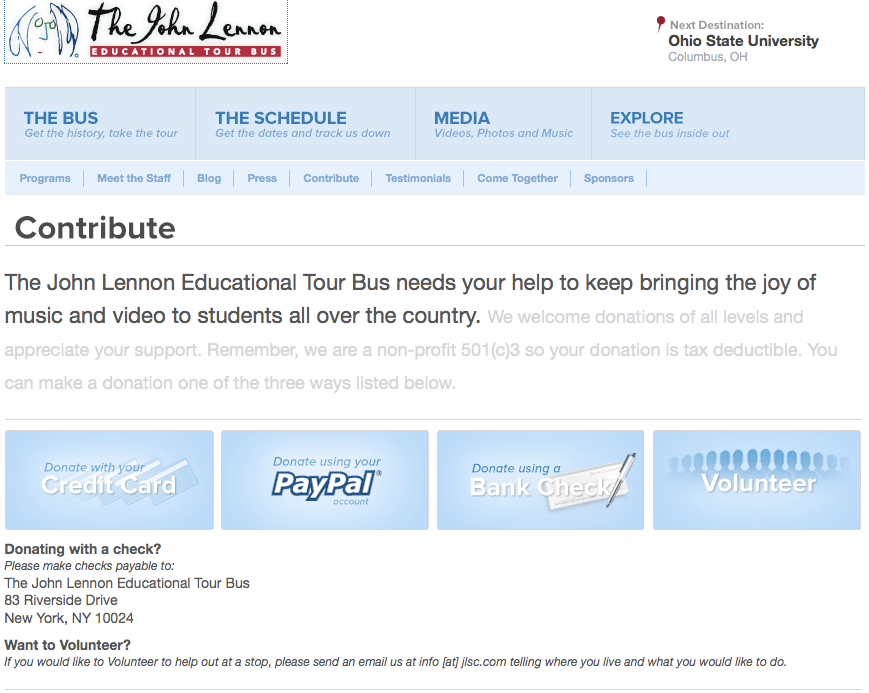 Thanks for reading and hope to hear from you.