January 19, 2009
The Slogan is a powerful message. This is known as we pop Mentos "the fresh maker" into our mouths, or kneel down to tie a pair of Nike shoes and proceed to "just do it". But all too often the "want" out rules the "need" in such messages. I'm not going to delve into the obvious that we are a consumer nation, but some messages are free and just don't speak to our wallets.
The attendance of Obama's inauguration day is expected to bring millions of people together, and with all eyes on Washington the message of "Imagine Peace" is a slogan free of charge to open our mind.
Oh yeah, and the slogan of "Change" is a pretty good one too.
To our delight Yoko Ono has shown us the writing on the wall. This is from Yoko's MySpace page: http://www.myspace.com/officialyokoono
January 9th, 2009
yoko ono
Imagine peace!
It's hard to kill people when we're imagining peace.
There would be no more war.
If we all imagined peace,
It sounds simple,
but it's true.
So, go see the billboard: IMAGINE PEACE.
Just one glance and it will stay with you forever.
It'll speak to you in your dreams,
and even give you a good night's sleep
Let's make 2009 the Year of Peace!
Give our children a good chance to live.
I see them smiling and dancing with joy.
Let's all together
IMAGINE PEACE.
With love, yoko
901 6th Street., NW, Washington, District of Columbia, USA 20001-2646
On the side of the Hampton Inn at the junction of 6th St & K St NW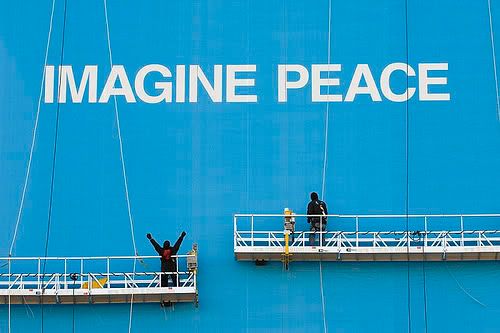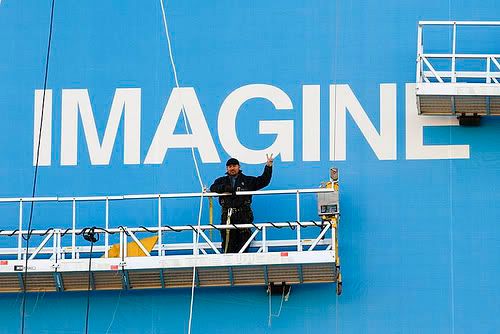 The John Lennon Educational Tour Bus in Washington D.C. May, 2008

Peace,
Brianne