June 18, 2009
So my favorite DAW or digital audio workstation is Logic Pro. For some its Pro Tools, Digital Performer or Cubase, but for me its Logic.
Each DAW is different and excels in one way or another but Logic suits my needs the best. Reason being is it comes with a grip of great software instruments, works with almost any audio interface, and has a look and feel that I dig.
I have been using Logic since version 5 when it was an Emagic product on a PC. At that time it was a pretty great piece of software but It has come a long way and got me thinking about how it got to be my favorite program. I did some research and I'd like to share how Logic grew from a pattern based software called Notator, to an extremely in depth beast of a program.
Notator first arrived in the USA from Germany in the fall of 1988 with version 1.12. This was a tremendous event for those who were trying to do electronic music on computers. Notator was developed by a company named C-LAB, which later became known as Emagic. Digidesign was their early US distributor. There was also a version called Creator, that came out a year or so earlier, that was the same as Notator without the notation editor. Creator got rave reviews in the trade magazines and when Notator arrived it quickly became the program to have according to the growing ranks of serious midiphiles. Notator ran exclusively on an Atari ST (1 meg!), which had its debut in 1985, and the new more powerful Mega ST (2 meg). I used to play Qbert on that thing!!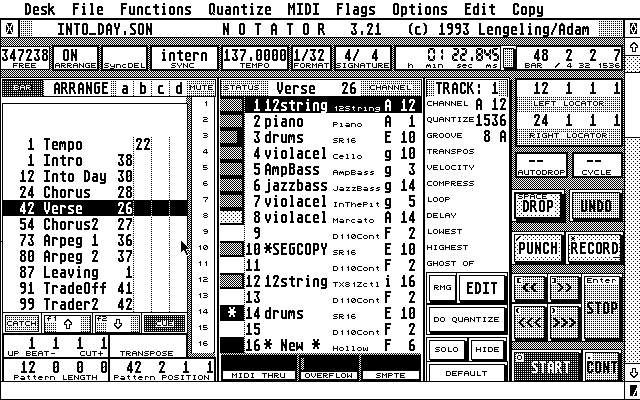 In the meantime, programmers formed a new company called Emagic. In 1993 they introduced what was to be a cross-platform solution following the logic of Notator, called Notator Logic. Eventually the preface "Notator" was dropped and the program was simply called Logic. Below is the welcome screen of Logic 1.5, released in late 1993. Note that 1.5 already has the basic layout as Logic Audio has today.
Then suddenly the Atari platform showed rumblings of imminent demise and closed its doors due to the uprise of personal computers. During this super-charged period of computer/software development, Emagic took Notator/Logic to the Mac. V 1.6 was released early in 1993. The new version allowed users to record audio into the computer. This was a ground breaking event as audio had finally arrived in Logic.
Audio was delivered in the young Logic via the DAE (Digidesign audio engine) made by the developers of Sound Tools (right around the time they changed the name to Pro Tools). The major audio cards for Logic were the AudioMedia I and II, SoundTools 2, and the new Session 8 all by Digidesign. Depending on what you had installed, you could expect 4 to 16 tracks of audio.
In 1995 Emagic released a version of Logic for the PC. At the time it was a battle of PC vs. Mac (which it still is) but the PC version was nothing to be compared to the Mac versions at the time.
Many versions of Logic came out for both platforms over the next few years and the program was well on its way to becoming what it is today. Below is a picture of Logic 3.0. Its starting to resemble my buddy.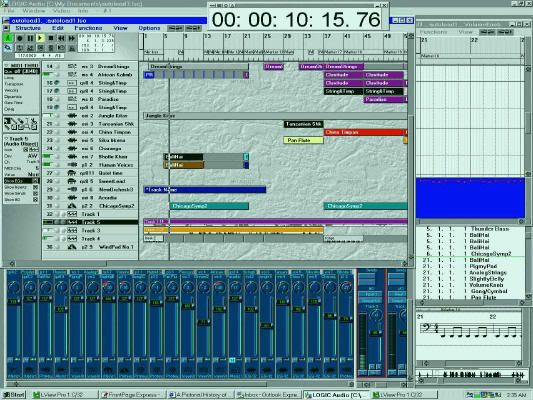 Apple acquired Emagic in July 2002.[1] Support for the Windows version was dropped with the release of Logic 6 shortly thereafter.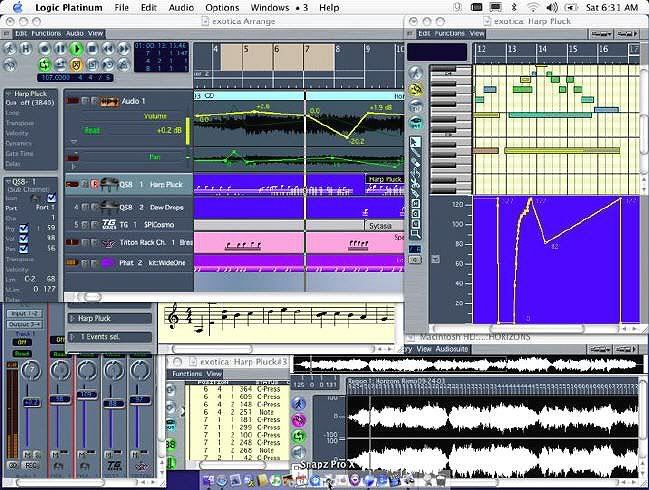 In late 2004, Apple released version 7 of Logic Pro, consolidating over 20 different Emagic products, including all instrument and effect plug-ins, Waveburner Pro (CD Authoring application), and Pro Tools TDM support, into a single product package. Apple also released a scaled down version of Logic called Logic Express, replacing two previous versions that filled that position called Logic Silver and Logic Gold. Apple began promoting Logic Pro as one of its flagship software 'Pro' applications for the Macintosh platform. Logic was also used as the basis for a modified application titled GarageBand, included as a part of OS X iLife.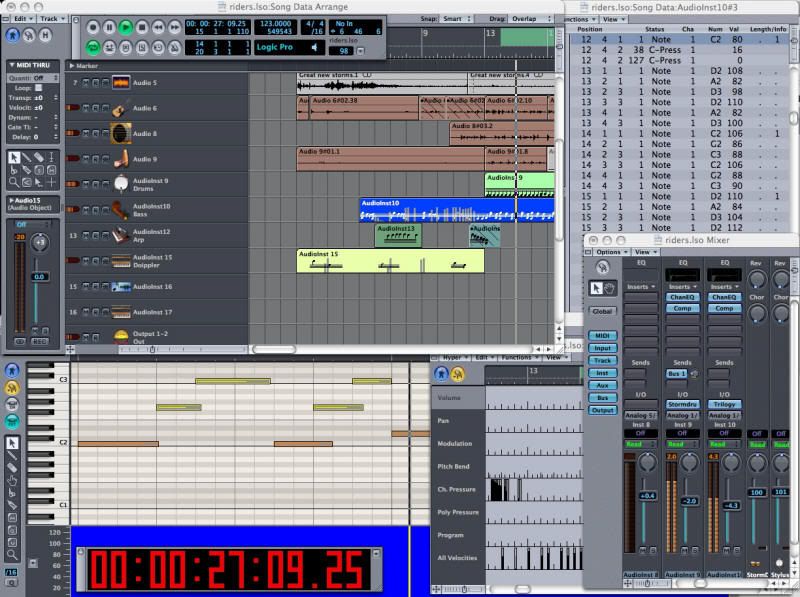 On September 12, 2007, Apple released the Logic Studio suite that includes Logic Pro 8. It has a new look and tons of new revolutionary features. Significant changes were made for Logic 8. Alongside changes such as the new processing plug-in (Delay Designer), Apple has included features such as Quick Swipe Comping, similar to Soundtrack Pro 2, and multi-take management. Apple also made changes to ease of use. These include the discontinuation of the XSKey dongle and a streamlined interface. Contrary to popular belief, Logic 8 is not a single window interface. Each plug-in (equalizers, reverb plug-ins, delay plug-ins, dynamics control) used in the channel strip when clicked will open a new window. A lot of the features found in Logic 7 have been consolidated into one screen, but not all of them. It has made a long journey and I'm going to go create something now using my boy Logic Pro 8.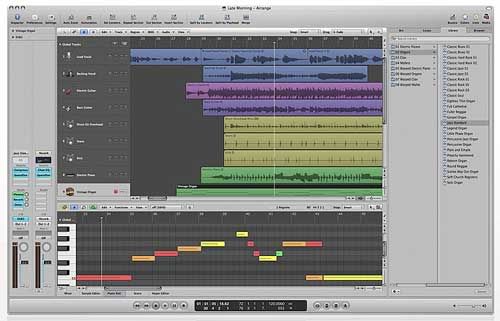 If you made it this far you really care about Logic as much as I do. If you don't have it, Buy it here:
http://store.apple.com/us/product/MA797LL/A?mco=NTAwNjE2NA